718-956-3366 36-17 30th Avenue, Astoria, NY 11103
"Saloon Salon's diverse clientele ranges from experimenting teens to Manhattan beauty buffs drawn by the spot's Redken "pilot salon" status. The space features polished-concrete floors, brick walls, fifteen chairs and a rear "color wall" stacked with bottles that resembles a well-stocked bar.

Though stylists are adept at cuts and blowouts, the specialties are extensions and meticulous highlights, lowlights, and the occasional head of platinum or fuchsia.

Colorists are extensively trained by both salon owner Frank Arcabascio and Redken (the only brand of products used). The staff finesses soft, flattering base-and-highlight jobs in one deft step, employing both brushed-on base color and foil strips."

-New York Magazine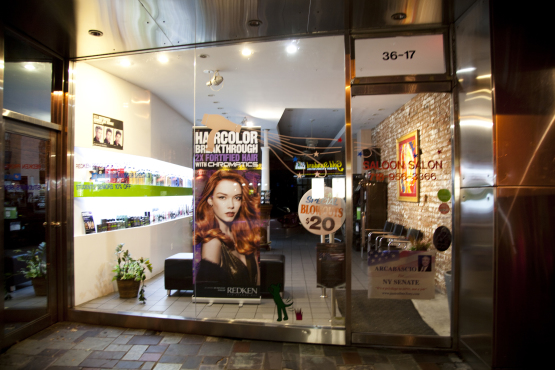 OUR SERVICES
stylish hair for men and women!
STYLE




Our stylists are trendsetters in their own right, keeping up with the latest in women's and men's styles and cuts. Be warned: You are going to be getting a lot of attention!


Make an appointment today by calling 718-956-3366, or walk in if you don't mind the wait! You will walk out looking awesome, promise.
COLOR




We are the hair color specialists. Before we put up the Redken awning, and became a concept salon we were Saloon Salon, Hair Color Specialists, and we stay true to our roots by providing only the very best in hair color.


Get yourself a coffee from your favorite 30th avenue cafe and come visit us, we love walk-ins! Rather make an appointment? Call us 718-956-3366
HAIR EXTENSIONS




If our celebrity clientele didn't refer you, perhaps you read our glowing reviews on Yelp, New York Magazine, or have seen the magic we performed for a friend. 18 of NYC's top hair salons outsource their hair extension work to us.

Call 718-956-3366 for a free consultation. We'll answer any questions you may have so you will feel comfortable getting hair extensions.

The idea of transforming a person is so powerful.
Nihad, P.


This place gets major props because it is one of only two salon's in NYC that participates in the locks of love program. If you are unfamiliar its a program that donates your cut hair to cancer patients who need wigs.
NYCgirl87


amazing colorists! – I've gotten my hair colored/highlighted many times and this salon is great!. Great environment, friendly staff and colorists who really know what they are doing. I've gone to Alex and he is really an expert on what looks good and how to do a natural-looking color job.
Petros,G.


GUYS if you want CURRENT haircuts like Gosling, Levine or Pitt and don't want to pay insane prices, then come here!

BarbaraAnne


This is one of the best salons, not only in Queens, but in all of New York City. They are cutting edge, willing to try new things, and most of all, honest with their customers. I have been at Saloon where I have overheard Frank, the owner, tell a customer a certain process wasn't good for her hair and offer an alternative...that WAS LESS EXPENSIVE than the original.
MAKE AN APPOINTMENT
718-965-3366
36-17 30th Avenue. Astoria, New York 11103